VIRTUAL CLIENT ATTRACTION TOOLS FOR
SALONS AND SPAS
EFFECTIVE, AFFORDABLE MARKETING SOLUTIONS USING VIRTUAL EXPERIENCES



WE PROVIDE A COMPREHENSIVE ARRAY OF USEFUL CONTENT TO HELP YOU ATTRACT THE CLIENTS YOU WANT

GOOGLE BUSINESS PAGE OPTIMIZATION

PROFESSIONAL VIDEO CONTENT
HIGHLY ENGAGING, INTERACTIVE EXPERIENCES
The choice of a salon or spa is highly personal.  So how do you communicate to potential customers what they'll find at your location that competitors don't offer?  We believe the best way is through a 3D Virtual Tour that presents an interactive experience highlighting how your operation is special!
EXPERIENCING A VIRTUAL TOUR MAKES NEW CUSTOMERS MORE COMFORTABLE
Many new customers can be intimidated by the thought of visiting an unfamiliar salon or spa.  Enabling them to take a virtual walk-through often makes them feel comfortable enough to make the appointment! 
TOP THREE REASONS WHY YOU SHOULD OFFER A VIRTUAL TOUR

 

A DIFFERENTIATION FROM COMPETITORS
PROVEN TO INCREASE INQUIRIES AND NEW CUSTOMERS
IMMEDIATE SPIKE IN ENGAGEMENT AND VIEWS
"We've seen a noticeable increase in new customers since we started offering a virtual tour. Often, new customers book an appointment directly from the virtual tour, and when they come in, they're already somewhat familiar with our facility. That makes a huge difference in retention!" — chris t. Salon manager
TARGETED MARKETING STRATEGIES
We'll provide strategic marketing ideas that are specific to your business,
 along with quality content to put those strategies into action.
BUILT IN GUARANTEES TO ENSURE RESULTS
You can be 100% confident that you are working with a sales and marketing specialist that gets results.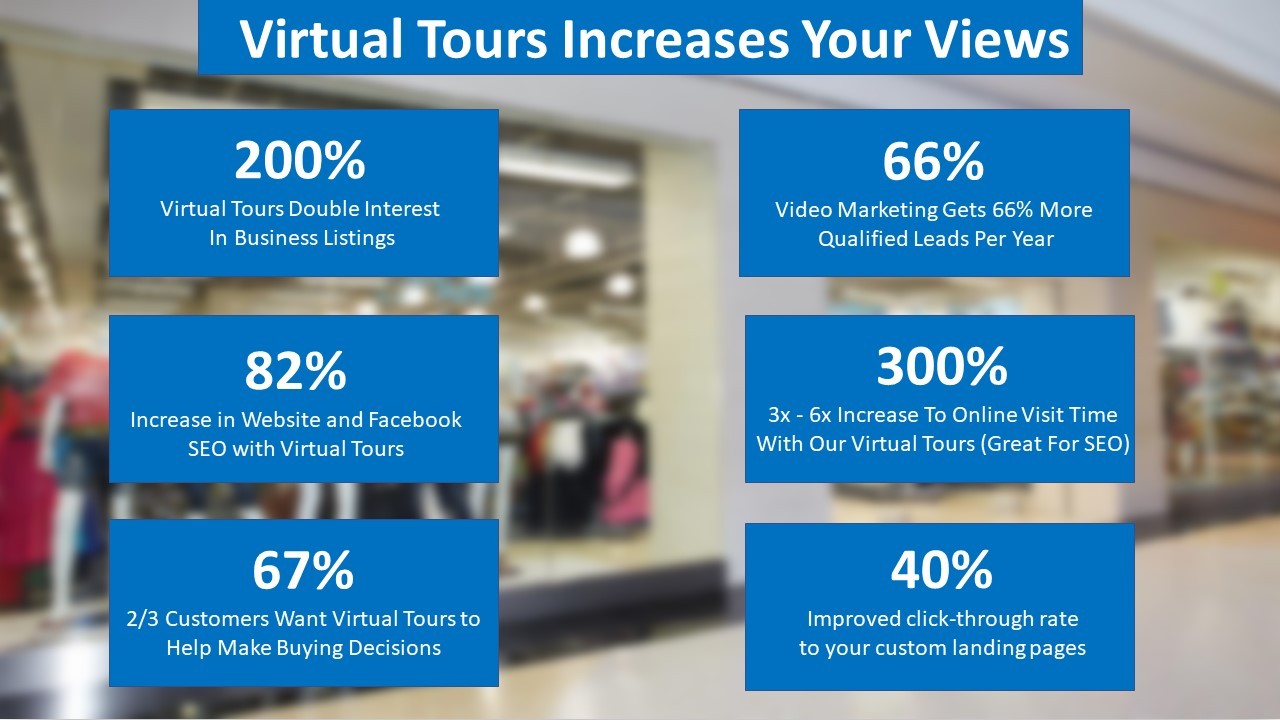 "OUR NEW TOUR LETS THEM SEE IT JUST LIKE THEY WERE HERE. WE HAD OVER 3,000 VISITS ON OUR TOUR IN A MONTH! THANKS TO STANDOUT VIRTUAL TOURS ONGOING MARKETING HELP EACH QUARTER, KEEPS US ON TRACK!" 
 Katrin T- Owner
CLIENT PORTAL
CLICK BELOW TO VIEW ALL CONTENT

START today!
Provide your contact information here, and we'll arrange for a professional 3D virtual tour consultation  to propel you toward your business goals.
 @ 2020 - StandOut Virtual Tours